On the road to finding foods I can eat and tolerate, I have invented this smoothie. Okay. I probably didn't invent it per se, but this is the adaptation of a blueberry smoothie I have found that does not cause me to have dumping syndrome, which is fantastic.
It's pretty easy to make and anyone can drink it, even those of you who still have stomachs. If you have had bariatric surgery or a total gastrectomy like me, this is the smoothie for you.
Disclaimer: This is not a low calorie smoothie.
I made it so it can be one of my meals. I have to eat 6 meals per day, so this smoothie is usually either my second breakfast or my second lunch. I usually aim to have my meals each be around 300 calories, that way at the end of the day I get 1800 calories. So far–fingers crossed– this has been a good daily calorie intake for me to maintain my weight.
When making the smoothie, you can substitute any milk you would like. Right now I'm on a macadamia nut milk kick. Mostly because it's good and Costco sells it in bulk. If you add the sweetened versions of the nut milks or if you use cow milk, just take into account this will change the calorie count.
As for sweeteners, I've been using Stevia. It doesn't seem to leave much of an aftertaste, especially if you use a little bit of it. In general, I don't like my foods too sweet. I'm more of a savory person at baseline. This is why I use unflavored protein powders. I've found the flavored ones, like vanilla, while they report no sugar, are so ridiculously sweet it's sickening. If you use the unflavored protein powders you can control the level of sugar. Plus you can add the protein powder to any of your other foods, like soups, to make sure you're getting enough protein. I've been using Isopure Protein powder. They don't pay for product placement, but if they want to, I'd be okay with that. I've found it's a nice protein powder that blends well and doesn't have much of an aftertaste. It's a whey protein, so not vegan friendly unfortunately.
Hope you like the smoothie! Let me know what you think in the comments below if you try it. I'm currently working on a high protein low sugar chocolate banana version, so check back for that one as well.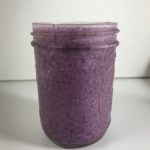 Print Recipe
Low Sugar High Protein Blueberry Smoothie
Ingredients
1/2

cup

Frozen blueberries

1/4

cup

uncooked rolled oats

1

cup

unsweetened macadamia nut milk

Okay to sub soy, cashew, almond milk. Cow milk will add more calories.

1

scoop

Isopure flavorless protein powder

1/5

packet

Stevia

Add as much as you need for sweetness.
Instructions
Add all of the ingredients into your blender or Vitamix. Blend on medium to high speed for 30 seconds to 1 minute until well incorporated. Pour into a cup and enjoy.
Notes
I really like this smoothie because it packs a whopping 30 grams of protein per serving and only 6.5 grams of natural sugar. For carb counters, it has 27 grams.