I'm not the biggest bell pepper fan, but every now and then I get a hankering for some. I had two of them in my fridge, begging me to help them become something more. After searching my fridge I decided to try my hand at making an Italian sausage pasta.
When I ate meat, I never really ate sausage because I found it too fatty, but since becoming a vegan I discovered the Gardein Italian Sausage. This stuff is amazing! I wish they were paying me to say this, but they're not. This sausage has a great flavor and great texture. It tastes like sausage, but without all the gross fatty meat stuff. But seriously, this stuff is really good and it's great on pizza too!
Below are some of the step by step pictures of how to make the recipe including some of the products I used to make it. I include tips and tricks along the way, but you can skip straight to the recipe by clicking the link above.
I didn't include a picture of the pasta I used because you can use any short pasta you have or like. I used trumpets, which tasted amazing, but if I make this recipe again I'll probably use casarecce because I think it'll hold up a little better than the trumpets did and this pasta has a grove in it that I think will hold the sauce a bit better. Plus it comes in a triple pack of pasta at Costco. You have to love eating well and saving money at the same time. Also, when purchasing your pasta make sure to look at the ingredients to make sure the pasta doesn't have egg. A lot of higher end pastas made with just semolina flour.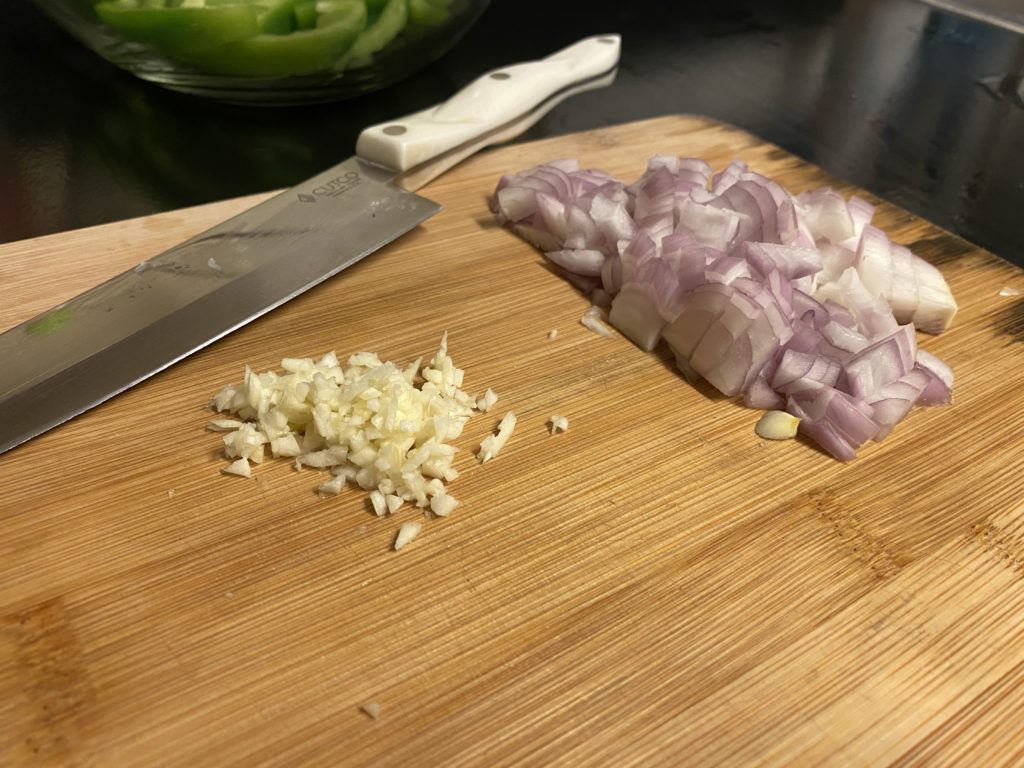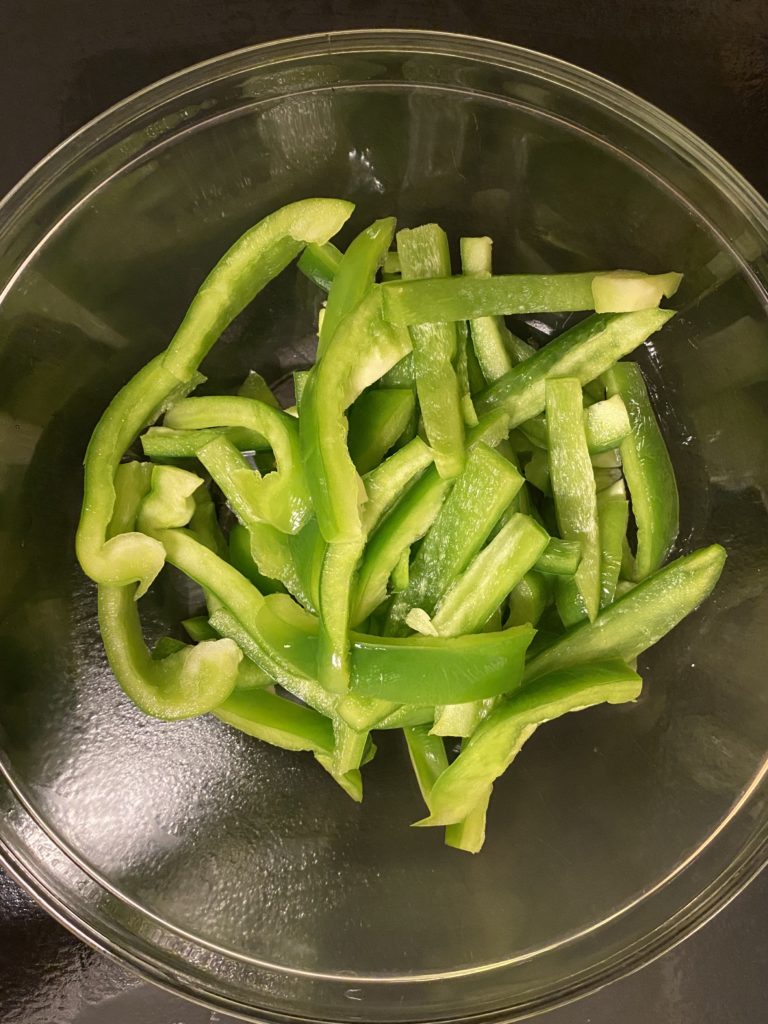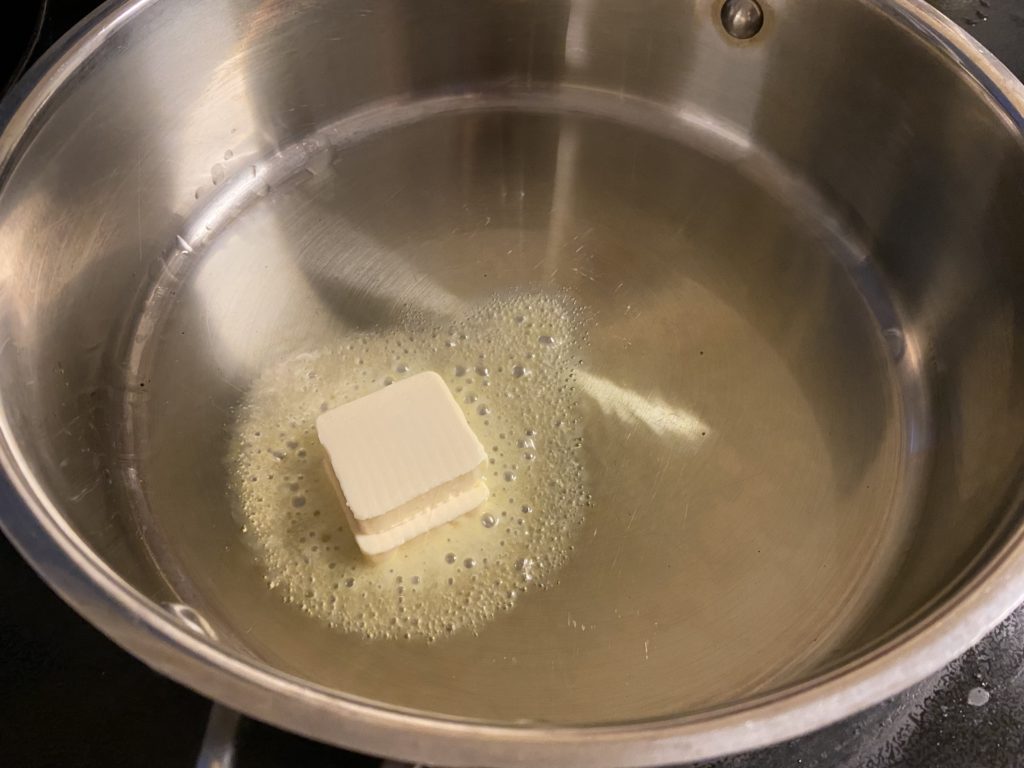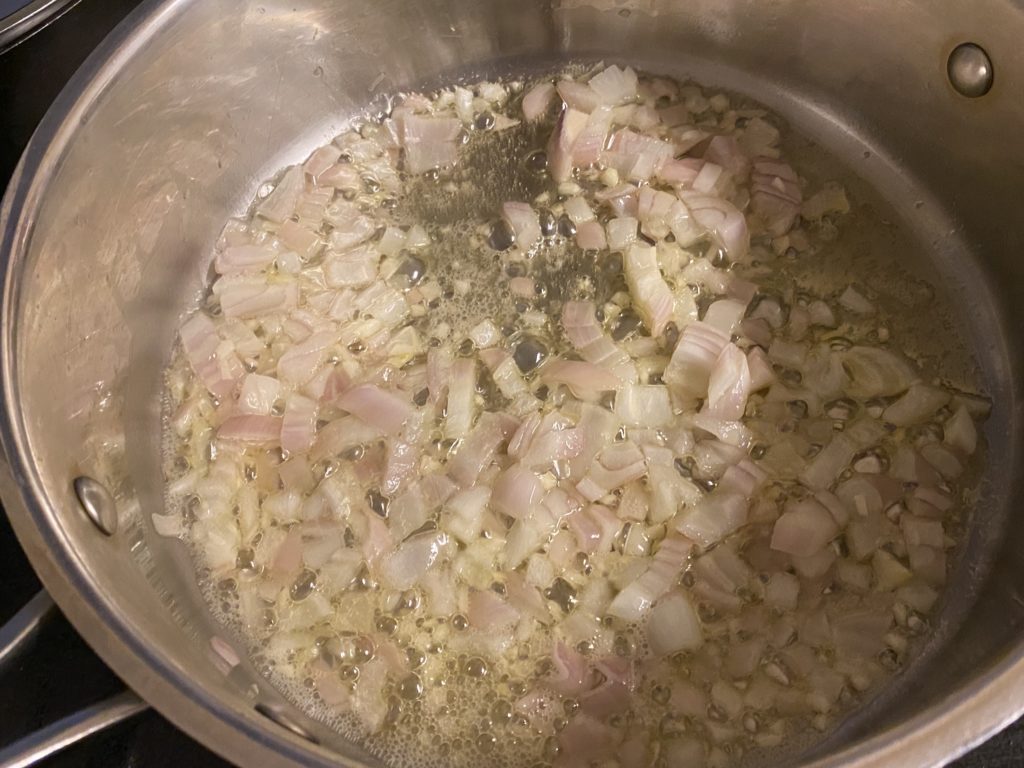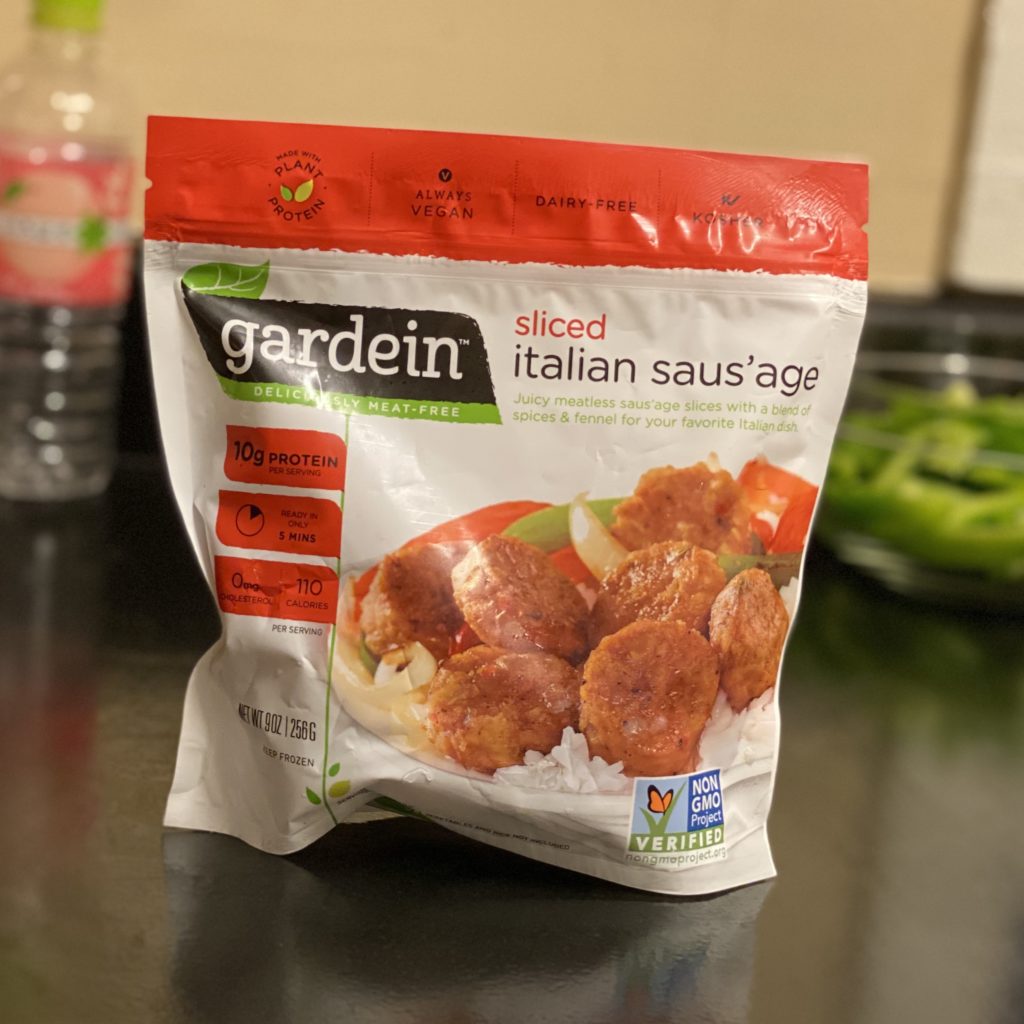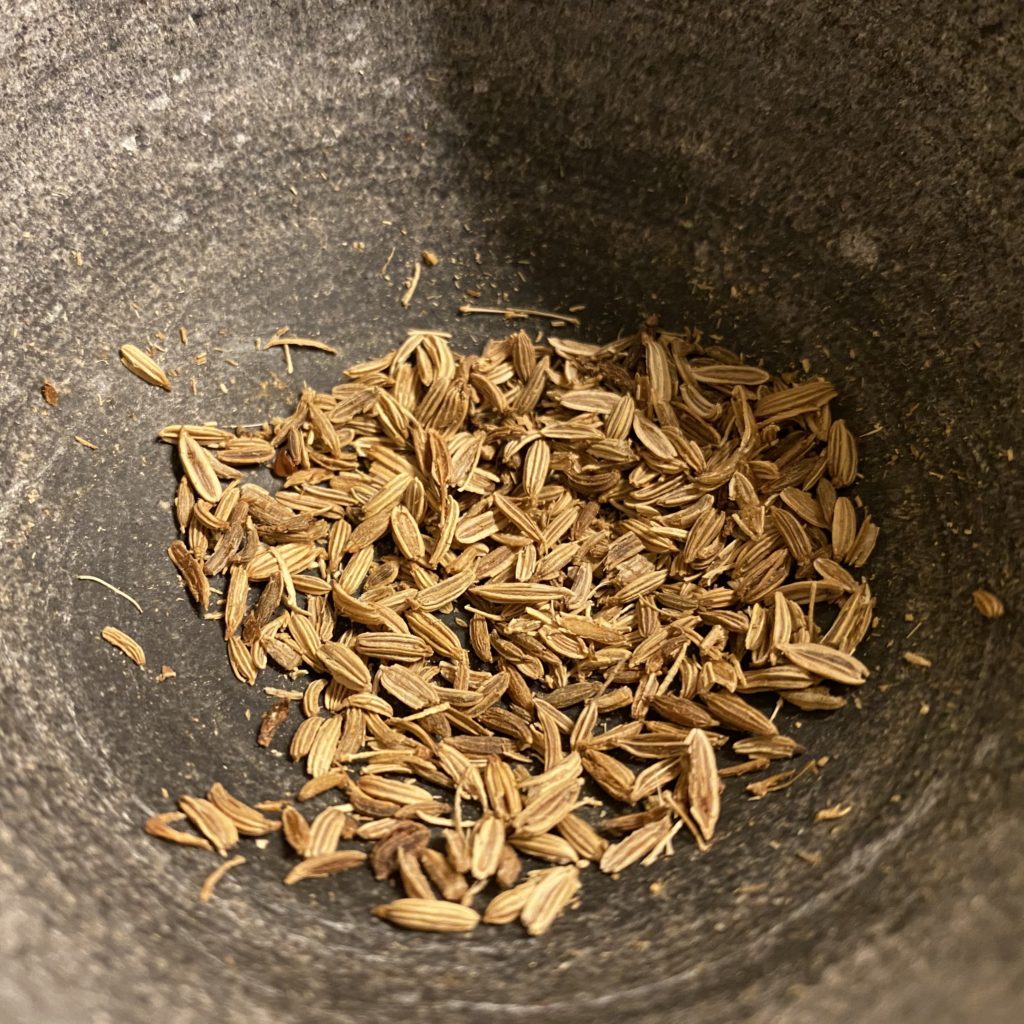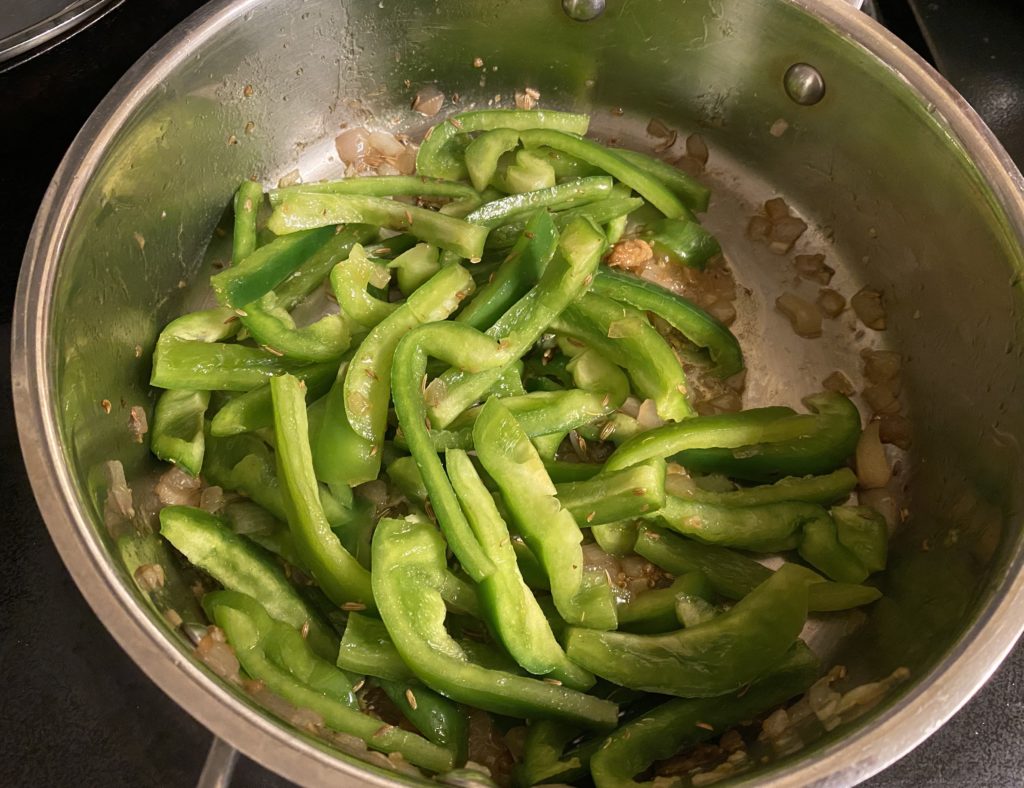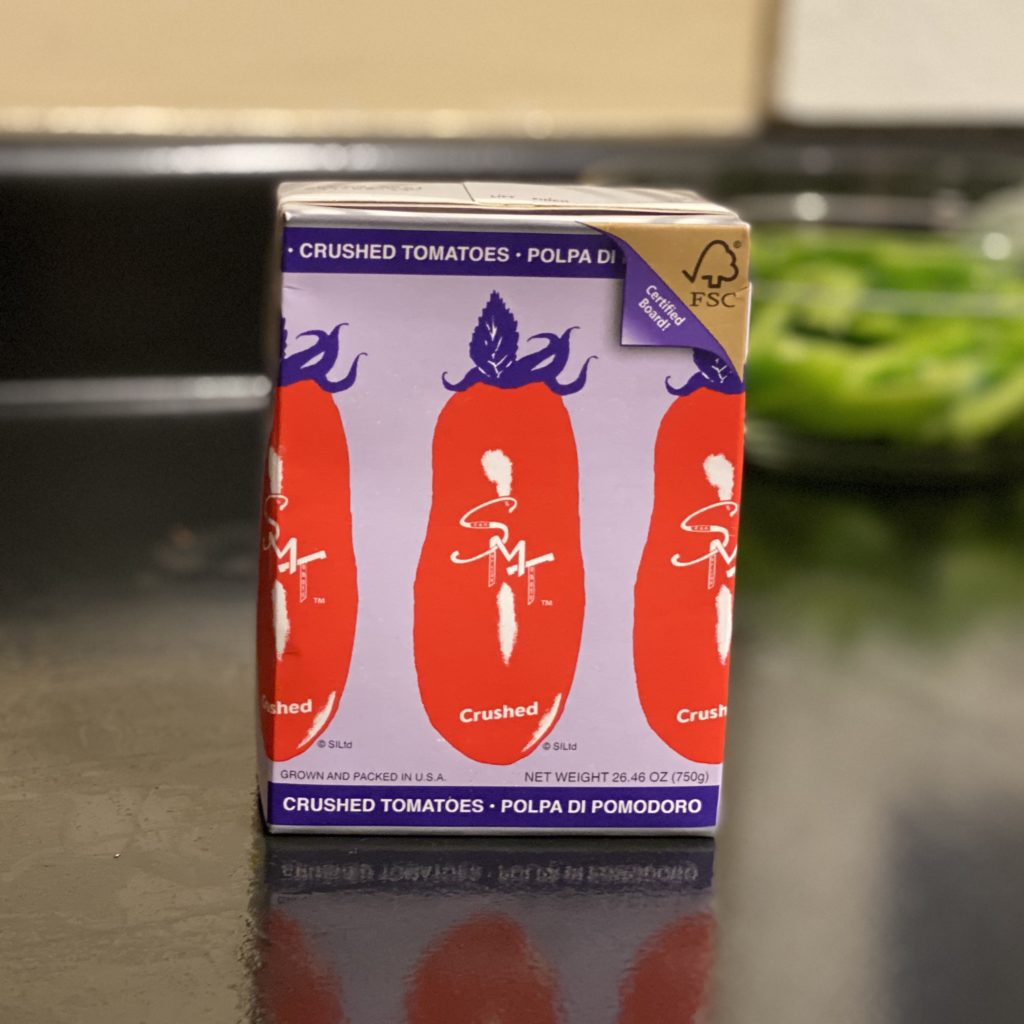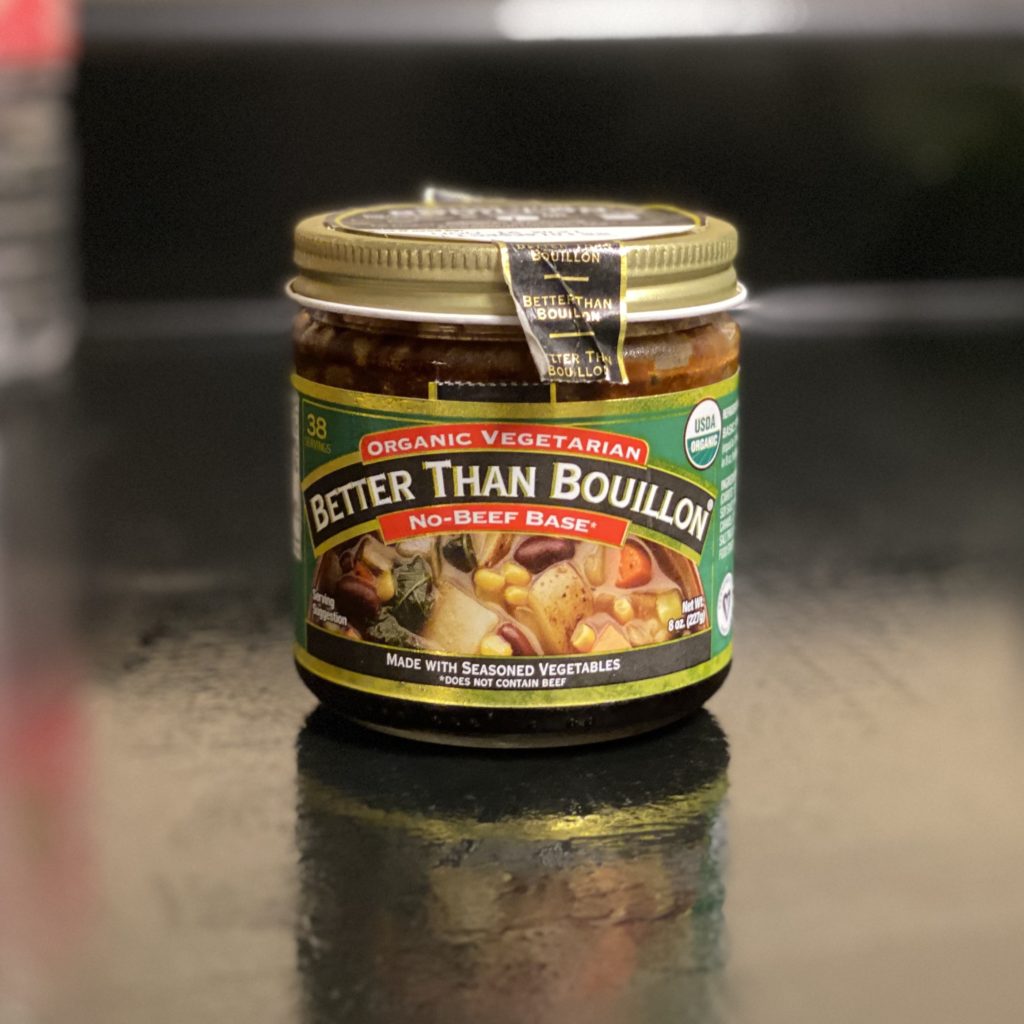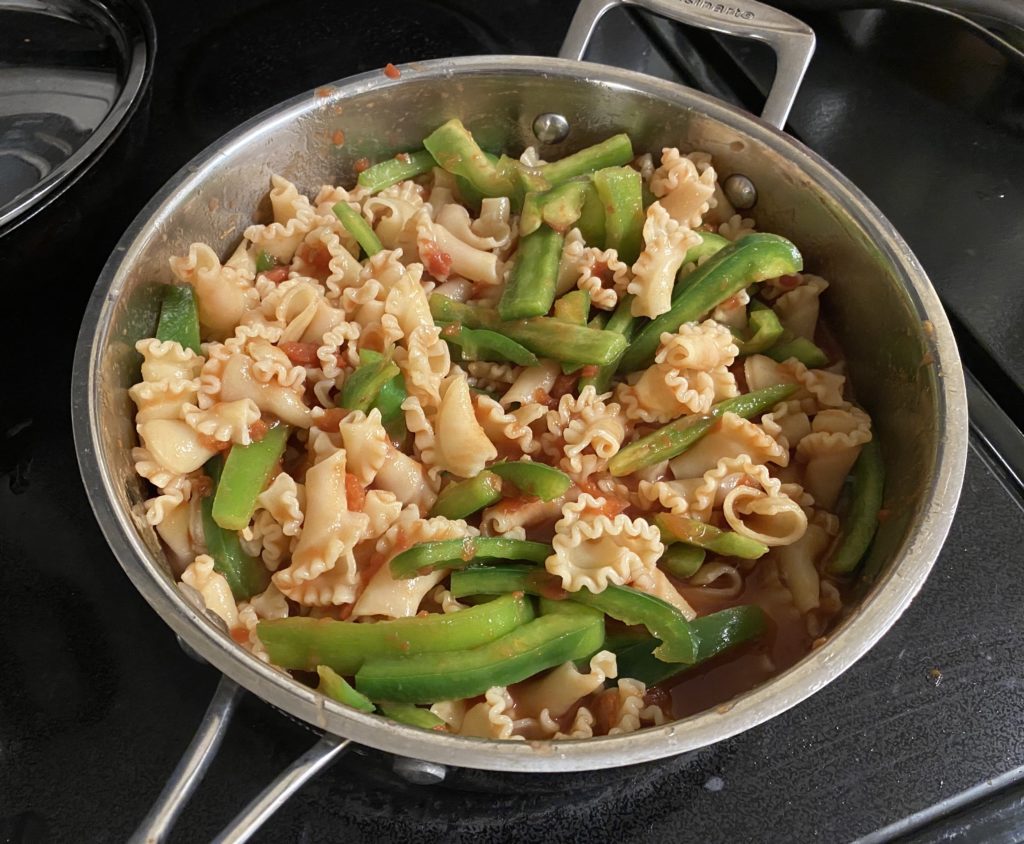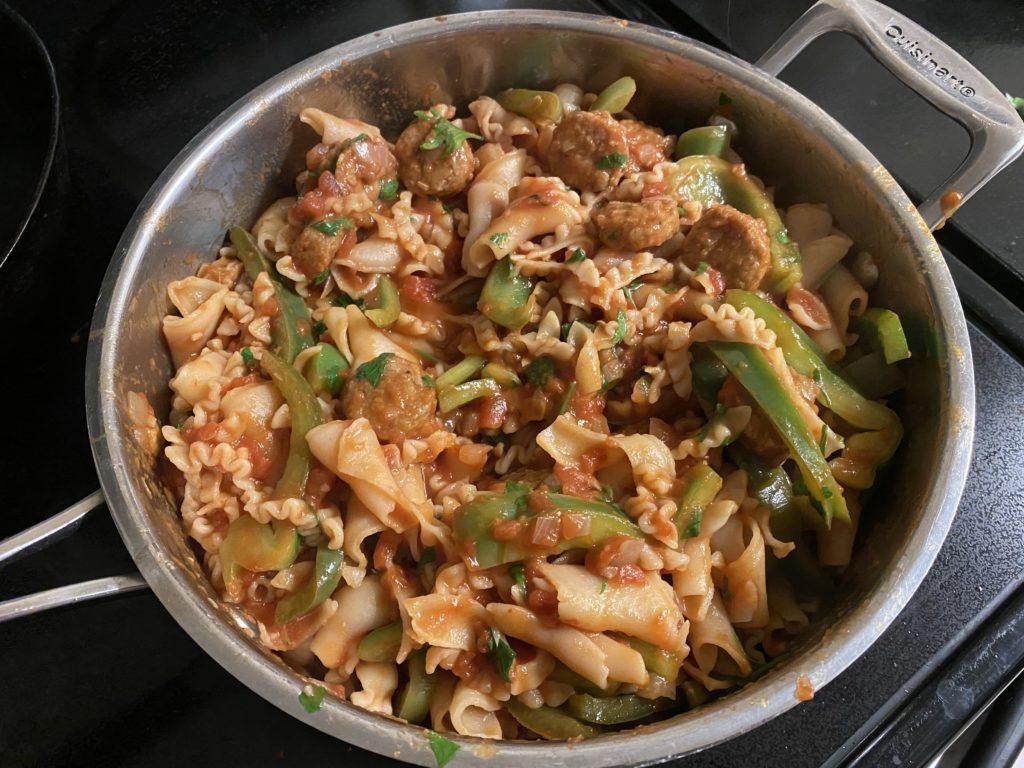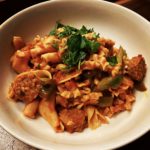 Print Recipe
Vegan Italian "Sausage" Pasta
Equipment
1 large pot

1 large sauce pan

Spatula

Knife and cutting board

mortar and pestle
Ingredients
2

Green bell peppers, sliced lengthwise

1

large

Shallot or one small red onion diced

3

clove

Garlic, minced

1

tbsp

Whole fennel seeds, lightly ground in mortar

1/2

tsp

Chile flakes

1/2

tsp

Cane sugar

1

tsp

No Beef soup bullion

or sub 3/4 cup veggie stock

3/4

cup

Water

12-14

oz

Eggless Pasta (Penne, Trumpet, Fussilli, Gemilli)

26

oz

Can of crushed tomatoes

1

package

Gardien Italian Sausage

Or any vegan sausage of your choice

1

tbsp

Olive Oil

2

tbsp

Vegan butter

I prefer Earth Balance

1/2

bunch

Fresh Italian/Flat parsley chopped

salt and pepper to taste
Instructions
Bring a large pot of water to boil with a dash of salt

While the water comes to a boil, heat olive oil and butter in a large sauce pan.

Once butter is melted, add garlic and onion and sauté until onions are clear. Stir frequently to ensure onions don't brown.

Add Italian sausage to butter mixture and cook until lightly browned on both sides, approximately 3 minutes each side. You want to be careful not to overcook the sausage.

Carefully remove sausage and set aside, leaving onion and garlic in the pan.

Add bell pepper and fennel seeds to the pan. Sauté 2-3 minutes, stirring frequently.

Once water has come to a boil, add pasta and cook for half of the recommended time. Drain pasta when it's done, but don't rinse it. Add partially cooked pasta to the pan.

Mix No Beef Bullion to the water and add to the pan, mixing throughly.

Add chile flakes, sugar and pepper. Give it a taste and add additional salt if needed.

Stir mixture together and let it cook for about 5 minutes. It will look really watery. Stir occasionally to ensure it's all incorporated.

Add 2/3 of the chopped parley and cooked sausage back to the pan. Stir to incorporate.

Cook an additional 2-5 minutes, until pasta is done and most of the liquid has been absorbed. If pasta not quite done, you can always add a little more broth.

Serve warm and garnish with remaining parsley.
Notes
Here is an estimate of the calorie breakdown. This will vary if you use different products. 
563 Calories
16.7 gm Fat
82.4 gm Carbohydrates
24.4 gm Protein
6.6 gm Sugar
8 gm Fiber