After my total gastrectomy I was looking for a way to get a decent amount of calories, while not having to eat a large meal. I wanted something healthy and wholesome and came across overnight oats. I initially found a few recipes, but I didn't like the results so I ended up crafting my own version.
This is a breakfast I eat regularly. Several times a week in fact. I have a job where we can be very busy and not eat for several hours at a time often not get a scheduled lunch break. These overnight oats are hearty and filling and can get you through the morning. They're also great if you want something you don't have to think about in the morning. You just pull a jar from the fridge, put it in your lunch bag or plop yourself in front of your computer while you read and eat. Well, that's what I do anyway.
THE OATS
You can use any type of oats you'd like. I prefer quick cook steel cut oats, such as Organic Coach's Oats. This is not a paid promotion. Not for the oats or anything I recommend. It's all just things I have tried and like. BUT if anyone is out there listening and wants me to push your products…. Anyway, back to reality, I use these oats because I can get a giant bag of them at a decent price at CostCo. I also really like the texture of the steel cut oats over the rolled oats. If you like a less chewy texture, then I recommend you stick with rolled oats.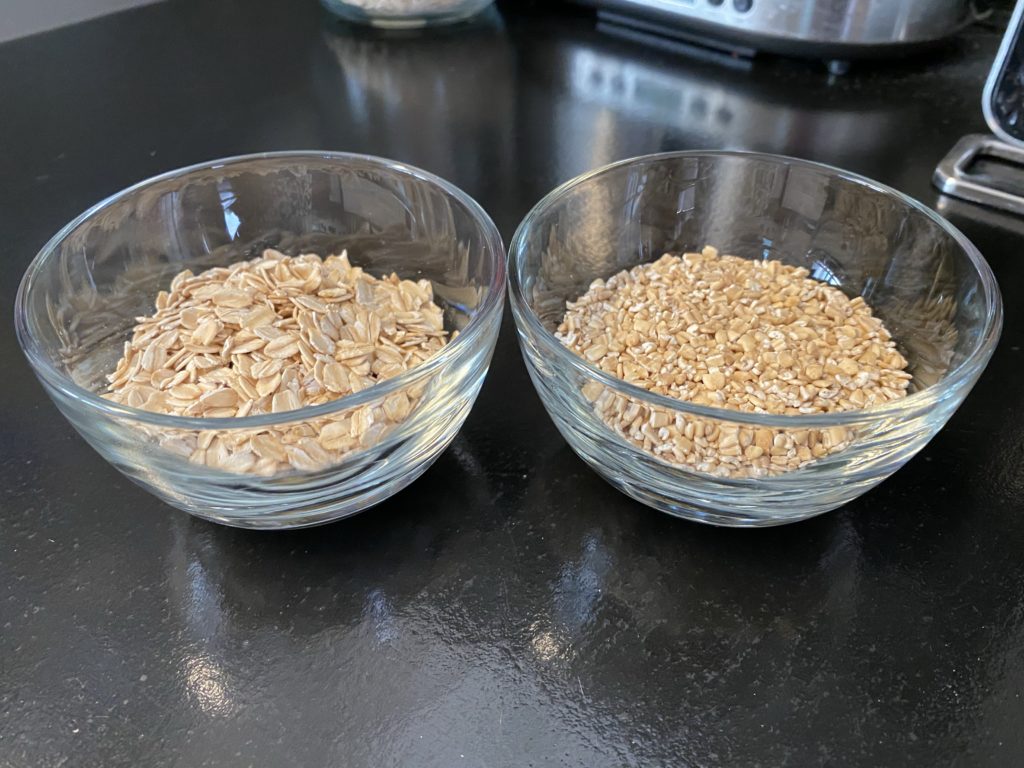 CHIA
I get my chia by the BIG bag at Costco, but feel free to get whichever brand you prefer. I love chia because it adds a nice texture to the overnight oats and as an added bonus for us vegans, chia provides some much needed omega 3's. Plus 1 teaspoon of chia seeds gives you 2.5 gm of fiber, 1.5 gm of protein and 30 mg of potassium! That's a lot of good from such a little scoop.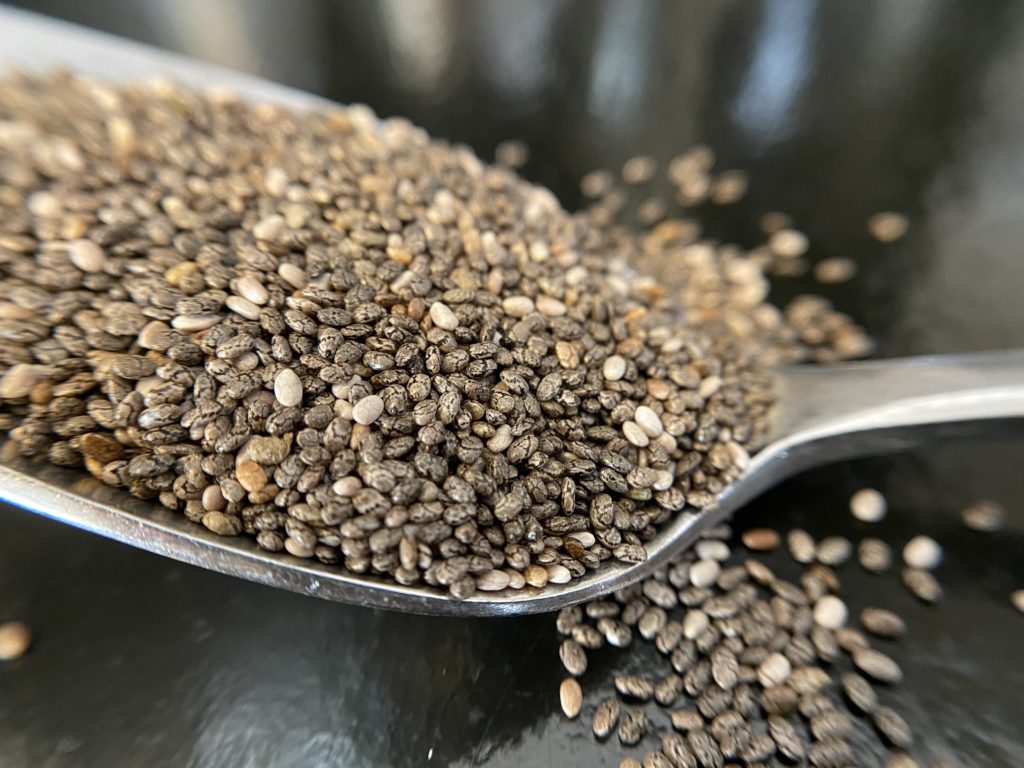 THE YOGURT
Now everyone has their favorite plant based yogurt. I started out with the coconut yogurts when I first became a vegan, but I now prefer cashew or almond milk yogurts. I think they have a more creamy taste and they add some protein to my meals. Whereas coconut mild yogurts have little to no protein. As for brands, I prefer Kite Hill Unsweetened Almond Milk Yogurt and Forager Project Unsweetened Cashew Milk Yogurt. That said, choose whichever brand makes your tastebuds the happiest.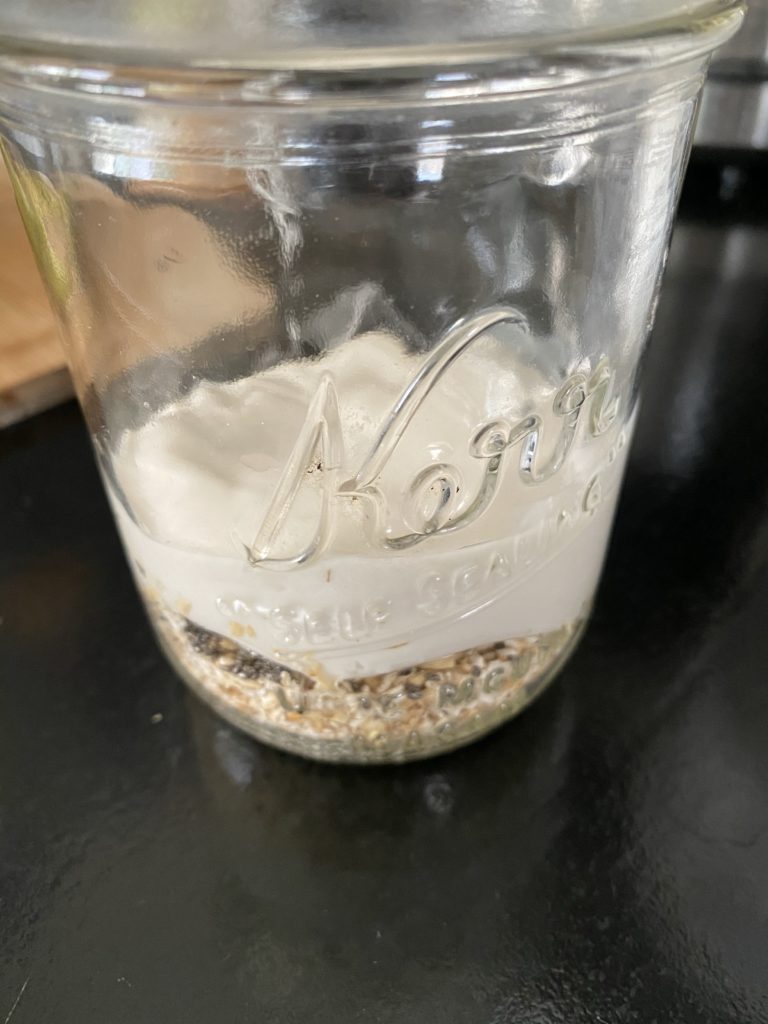 THE MILK
This one is a no brainer for me. Soy milk all the way baby! When I first had my surgery, I was drinking plant based milks that had no sugar, namely macadamia nut milks. Now that I can handle a little bit of sugar, I prefer soy milk. It tastes better and has protein. Trendy milks like Oat Milk taste good, but have zero protein. As a vegan who works out, I am constantly on the search for adding extra plant based protein to all my meals. Soy milk is a great way to do it.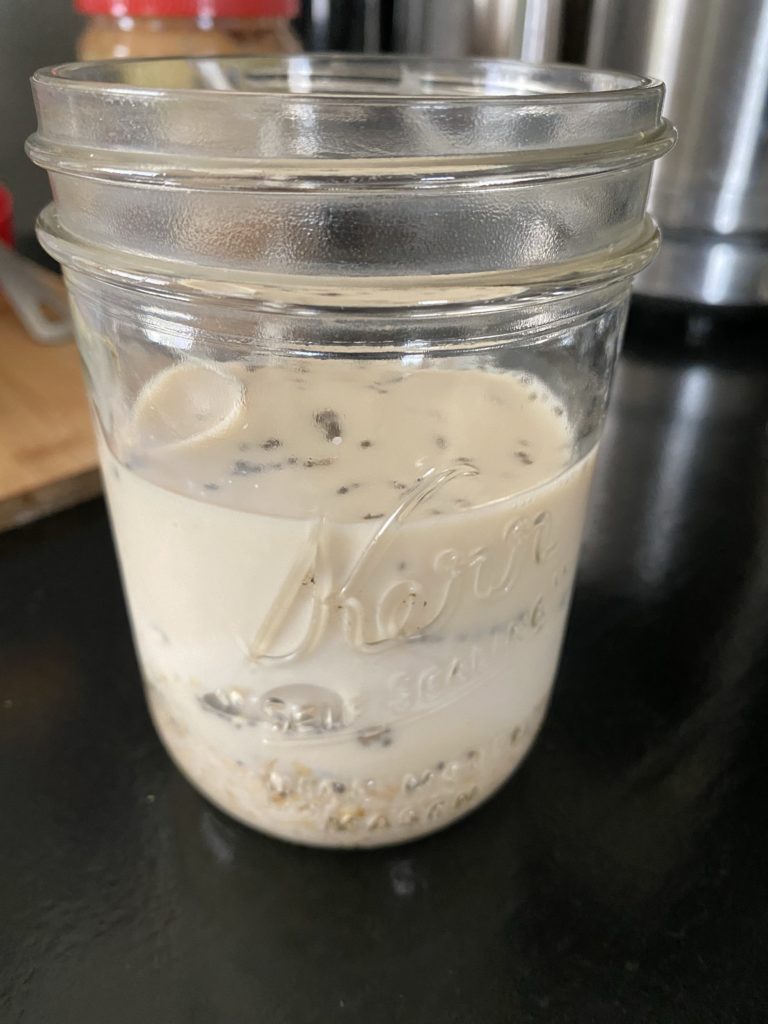 THE FRUIT
I love banana. Like really love it. Especially the classic banana. Living in Hawaii we have smaller bananas called apple bananas (which taste nothing like apples IMHO), but I don't like them as much. Maybe I love regular bananas so much because most of the them come from Ecuador and I'm half Ecuadorian? Either way, I will be horribly sad when they go extinct. Until that time, I will enjoy and savor every banana bite. I love bananas in my overnight oats. I've made my overnight oats with baked cinnamon apples or with mulled berries before, and while these varieties are delicious, they don't hold a candle to bananas. I like to add my bananas in the night before when I'm mixing the oats together. The next morning they are like cooked bananas and the flavor and sweetness has permeated the entire jar of oats, sweetening the dish without adding extra sugar. However, if you are not a fan of this type of banana, no one will judge you, just add them the next day. It will still be delicious. If you are one of those people who don't like bananas, add whichever fruit you'd like: blueberries, raspberries, apples, blackberries, cranberries, strawberries. Any kind of berry. You get the point. It's your overnight oats, you add the fruit you like the most.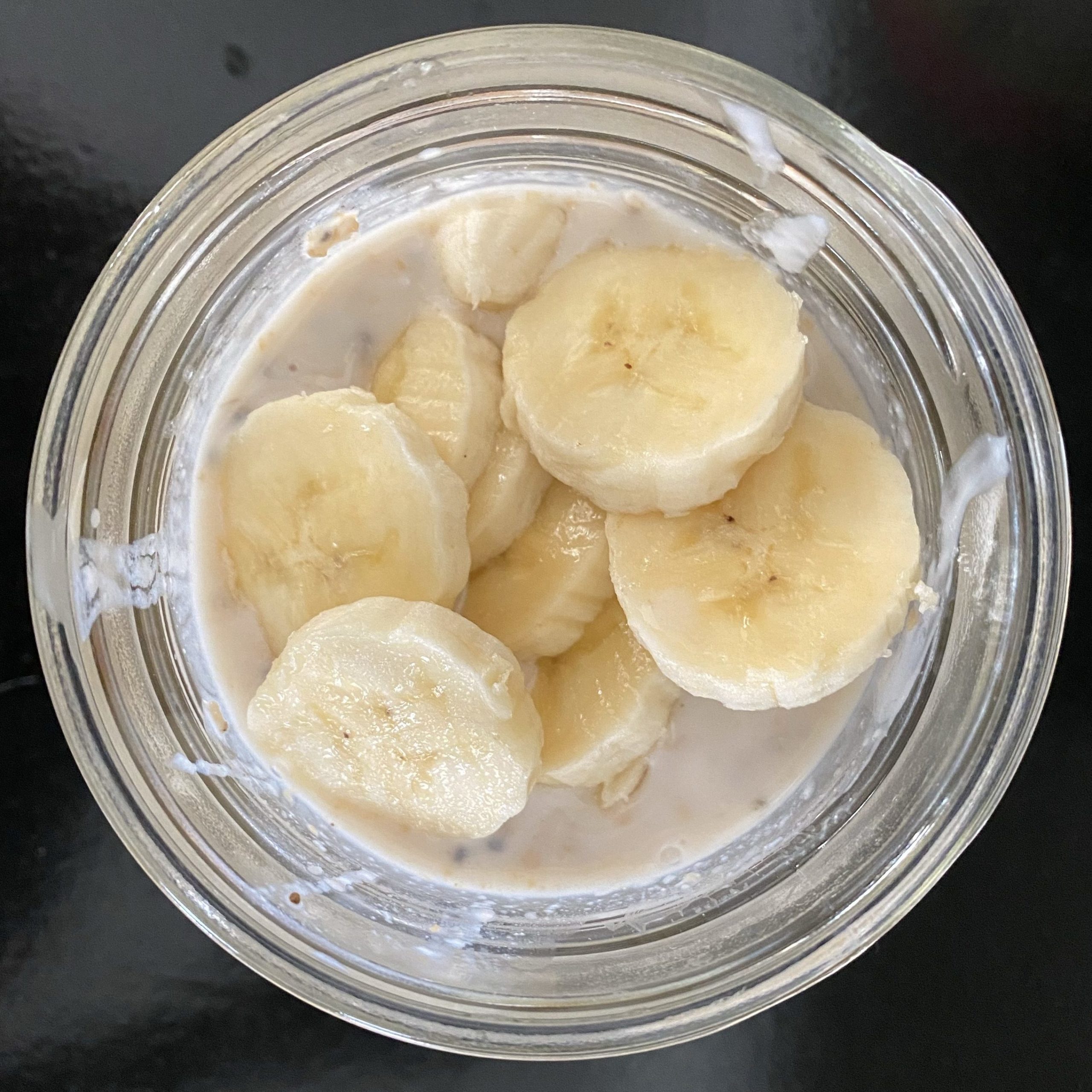 THE PEANUT BUTTER
This recipe would not be complete without peanut butter. It adds some yummy creaminess, some healthy fats and a bit of protein. I've used crunchy or smooth. Both are delicious. You can even substitute peanut butter for almond butter if you prefer.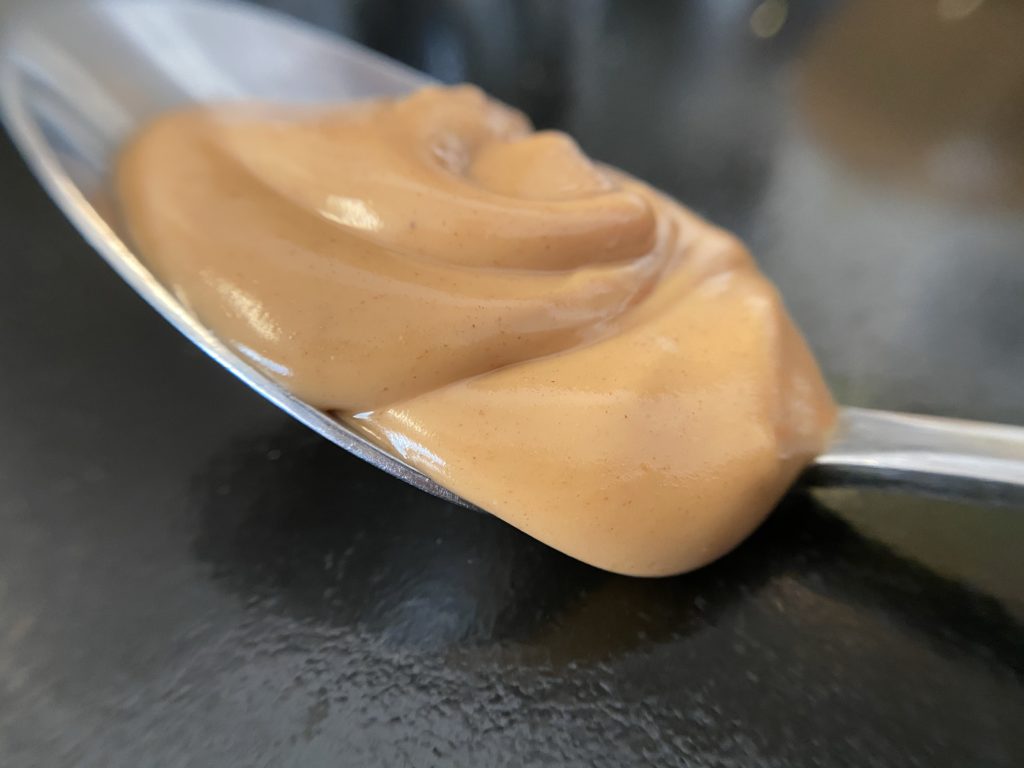 If you made this recipe, I'd love to hear how you liked it! Please comment below.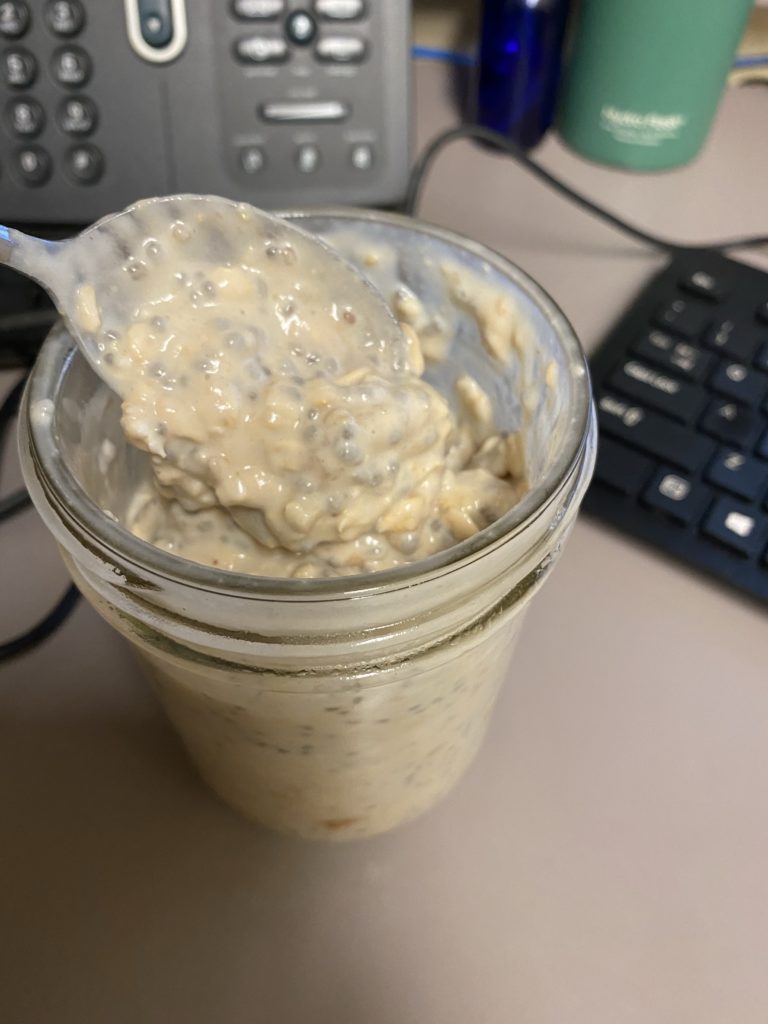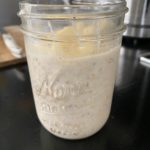 Print Recipe
Overnight Oats, Vegan & Low Sugar
Ingredients
1/3

cup

rolled oats or quick steel cut oats

2/3

cup

soy milk

add a little extra if you like it more liquidy or less if you like it thicker

1/3

cup

unsweetened nut milk yogurt

I prefer nut milk yogurts=more protein

1

tsp

chia seeds

1

tbsp

peanut butter

1/2

banana sliced
Instructions
In a 12 oz mason jar, add your oats.

Add peanut butter (or other nut butter) and mix to incorporate.

Add sliced banana and mix gently. Cover with a lid and place in the fridge to rest overnight, or at least 8 hours.
Notes
You can use any container you have. I love the mason jars because of the ease and aesthetics. When you mix everything together initially your mixture will seem too liquidy. Rest assured. When you wake up in the morning, crack open and lid and take your first bite, it will be just right.
NUTRIONAL INFO:
Calories: 299
Total fat: 16.4 gm
Carbs: 34.5 gm
Protein: 8.2 gm
Sugar: 15.1 gm
Calcium: 31.7%
Iron: 9.2%
Potassium: 384 mg
Vitamin A: 6.8%
Vitamin C: 5.1%
Please note if you made substitutions, changes, or added sugar, this will obviously change the calories and nutritional info.