Here are the recipes from my 9/26/20 Instagram post. I didn't take any pictures while I was making this meal because it was one of those evenings where I was looking in my fridge and garden to see what I had and just sort of came up with this.
You can make the Root Veggie Bake alone, but it think it works nicely with the cool side salad. And as is my style, both recipes are plant based/vegan. Although I just read an article in the Washington Post that some hard core vegans who don't like to use any products from the labor of bees may not consider this recipe truly vegan because it has avocados. Apparently avocado farms use migratory bee for hire to pollinate their crops. Hence, if you don't eat honey because you don't like to exploit the labor of bees, then avocados may be off limits as well. As I've written before, I'm an imperfect vegan, so I'm all about eating avocados.
One of these days I'll get around to taking beautiful artsy step by step pics of how to make these recipes, but until then, its just the written recipe below.
If you can't find Ras el Hanout your local grocers. You can make it from scratch by blending all the herbs yourself. I've done that before but it takes a bit of work. Since I use Ras el Hanout with regularity, I ended up buying mine on Amazon. This is the brand I use and I like it a lot. Some brands have a lot of cayenne which can make your meal super spicy, but this particular mix has no cayenne. It's all just delicious flavor.
I'd start by making the Root Veggie back and while it's cooking in the oven, you can make the side salad.
Enjoy the recipes. Comment below. Follow me on Instagram. Share this link. Etc. Etc.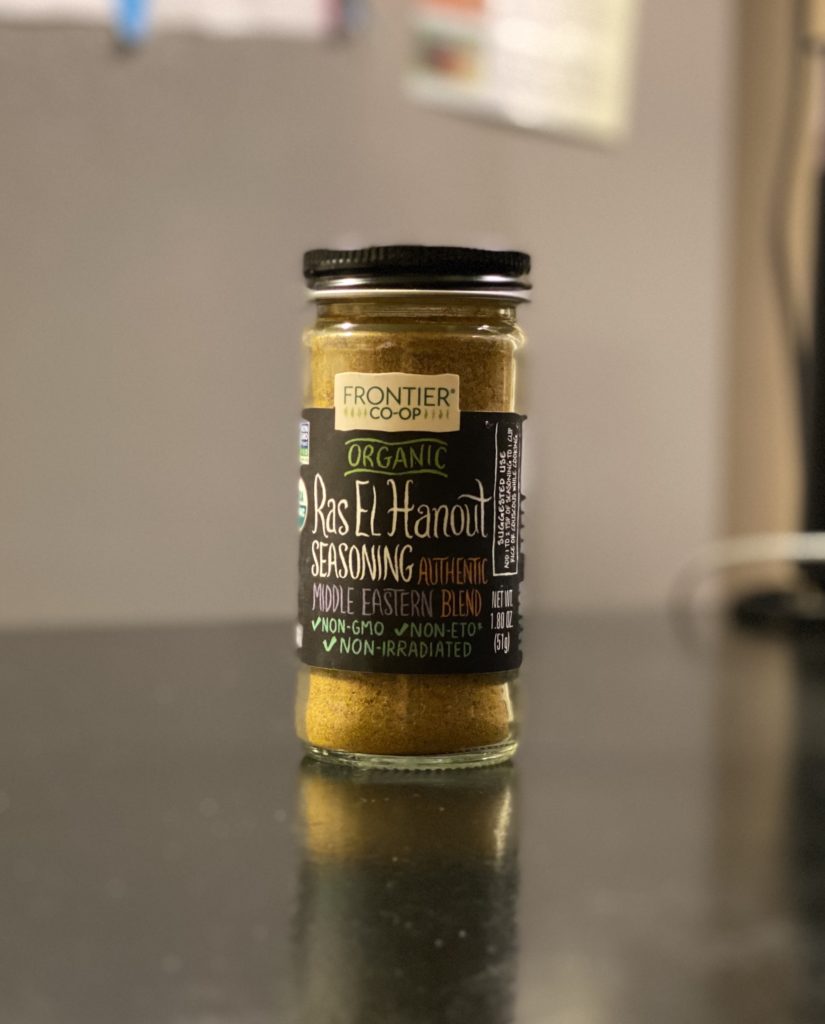 Root Veggie Bake
A hearty warm root veggie bake with a Middle Eastern vibe
Ingredients
1.5

lbs

fingerling potatoes

4

small

beets (red and yellow)

15

oz

can of garbanzo beans

2

cloves

garlic

1

tbsp

Ras el Hanout

1

tsp

coarse or sea salt

2

tbsp

olive oil

1/2

cup

fresh chopped mint
Instructions
Preheat oven to 365 degrees Fahrenheit

Wash potatoes and place them in 9 x 12 roasting pan

Wash/scrub beets. Then cut them into ~ 1 inch pieces. I peel my beets, but you don't have to as long as they've been scrubbed clean. Place them in the roasting pan.

Mince garlic and place in the pan.

Open and drain one can of garbanzo beans and add to the pan. You can save the juice, called aqua fava, as it can be used for other recipes such as whipped cream or vegan mayo. Or you can dump it down the drain like I did 🙂

Drizzle the olive oil over the veggies and the add Ras el Hanout and salt.

Mix well by hand, or with spoon.

Place in the preheated oven.

Bake for approximately 40-45 minutes on the middle shelf. About half way through (~20 minutes) take the pan out and mix the veggies. At about the 35 minute mark take the pan out and test the doneness of the beets since these usually take the longest to roast. The fork should slide through them easily if they are done. Depending on how soft they are, the dish may need to add extra time. Additional time should be in 10 minute increments checking doneness as you go.

Once the veggies are cooked mix in the fresh mint.

Serve with the pea/tomato/avocado side and enjoy!
Notes
Calories are just an estimate. 
331 Calories
8.6 gm Fat
53.9 Carbs
10.1 gm Protein
Avocado Pea Tomato Salad
A nice refreshing cool salad made to complement the Root Veggie Bake
Equipment
1 medium mixing bowl

1 small mixing bowl

1 strainer

a sharp knife

a mandolin of you have it, but not necessary.
Ingredients
1.5

cup

frozen peas

2

small

avocados

8-10

cherry tomatoes

2

tbsp

lime juice (half of one juicy lime)

1

large

shallot

1

tbsp

salt

(It sounds like a lot, but you don't actually use it all)

1

tsp

turbinado sugar

(granulated sugar will work as well)

1

tbsp

olive oil
Instructions
Thinly slice shallot by hand or on a mandolin. It's important to get thin slices. I usually set my mandolin to the thinnest setting.

Place the shallot slices in a strainer and sprinkle with the salt. Mix well. Set the strainer in a bowl or in the sink and leave the onions to drain for at least 15-20 minutes.

While the shallot is getting its salt soak on, place the frozen peas in a small bowl and cover with lukewarm water to thaw. You may have to change out the water once. It takes about 10 minutes for the peas to defrost.

While the peas and shallots are doing their thing, cut the cherry tomatoes into small slices. You can also quarter them, or if they are larger cherry tomatoes, you can cut them into eighths. Place in a medium mixing bowl.

Cut the avocado into cubes and place in the mixing bowl.

Drain the defrosted peas and add them to the mixing bowl with the cherry tomatoes and avocado.

By now the shallots should have softened up nicely. They should be very limp versions of their previously firm selves. Throughly rinse the salt off the shallots under cold water. Once rinsed, add to the mixing bowl.

Add the lime juice, sugar, and olive oil to the mixture.

Mix all the ingredient well. You shouldn't have to add any salt as the soaked onions will still have a little salt on them.

Serve chilled. Will store for a couple of days in the fridge.
Notes
Calories are just an estimate. 
223 Calories
13.5 gm Fat
23.1 gm Carbs
6.1 gm Protein